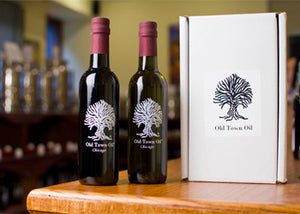 The Essence of Fresh Basil with Ripe Strawberries
Never buy prepackaged strawberry vinaigrette again. The fresh, green taste of basil combined with sweet strawberry is the perfect topper for mixed greens and makes an excellent base for marinades and pasta salads.
This gift box contains a 375ml bottle of Basil Extra Virgin Olive Oil and a 375ml bottle of Strawberry Balsamic Vinegar.