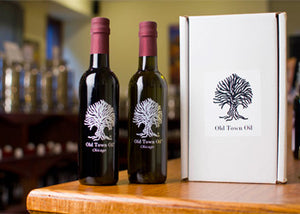 Hearty Flavors of Fall
Capture the taste of autumn with the warm flavors of toasted walnuts and sweet, earthy hints of apple. A tasty dressing for Waldorf and other hearty salads, this combination of olive oil and balsamic vinegar also jazzes up marinades for pork and tenderloin dishes.
This gift box contains a 375ml bottle of Walnut Oil and a 375ml bottle of Red Apple Balsamic Vinegar.